Google Workspace was introduced in 2020 to replace G Suite.
Professional email and cloud solution for your company.
Google Workspace is an integrated workspace that unites all your productivity tools in one easy-to-use solution to help people, teams, and companies do their best work — together.
With Google Workspace you have a convenient corporate e-mail solution. You can create documents, spreadsheets, meetings, calendars, and presentations online and share them with your colleagues.
We provide license sales, technical installation, and support.
Allow your employees to work comfortably from home. Google Workspace allows multiple members of your team to work and collaborate on the same document at the same time.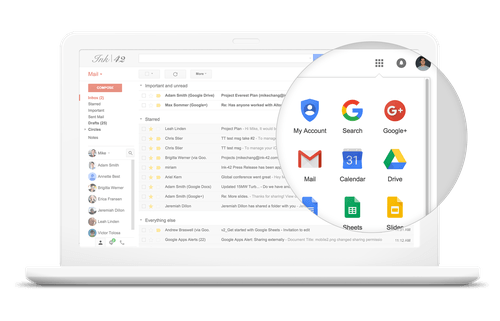 Gmail on your own domain
You probably already know Gmail from Google, instead of an email like name339@gmail.com you will get a professional email address, e.g. surename@example.com
Professional e-mail for companies that you can easily search and organize. Accessible via regular browser, Outlook, Apple Mail, Thunderbird and mobile devices.
Google Calendar
Schedule team meetings, share and invite colleagues and clients to meet. Works with Gmail, Drive and Contacts.
Google Drive
30 GB up to unlimited storage for each account. Upload and share large files and attachments to emails, share directories, videos, projects within your organization.

Google Contacts
Sync your contacts between your PC and mobile. Your secretary can add a contact for you, schedule a call and add a calendar reminder for the next day.
Chat
Communicate in the company via secure chat. Each department can have its own group. Exchange notes on documents, calendars, …
Meet
Video and voice conferencing. Invite your employees to a meeting if they work from home, are absent or on sick leave, out of the office, or at another workplace.
Docs
Create and edit documents directly in the browser without any software. Multiple people can work on the same document at the same time, changes are automatically saved.
Sheets
Create spreadsheets efficiently, team together, securely share sensitive data. Both Docs and Sheets are compatible and allow interoperability with MS Office files.
Slides
Create beautiful presentations without special office software.
Forms
Easily create a form, your own internal survey or public questionnaire.
Keep
Record ideas and organize better, get more done.
Voice
An affordable, easy-to-use business telephone solution for organizations of any size.
Benefits of Google Workspace and working in the cloud
Your data is available when and where you need it
Wherever you are in the world, your mobile phone, tablet and Chrome / Chromium see the same thing. Just account and enable sync. All devices have access to e-mails, created files, calendars, contacts.
Your team of employees can collaborate on documents online
Several people can work on Documents, Spreadsheets, Presentations at once. Leave comments, make edits directly online and see who edits the document and what changes they make. This way, your team can move forward and they don't have to wait for each other, they will share tasks and they can work together.
Compatibility with all operating systems
You can use Google Workspace on Windows, Android, iOS and Linux devices. Email is also available via classic IMAP / POP3 for email clients such as Outlook, Apple Mail or Thunderbird.
Google Workspace works for companies of all sizes