When you manage a website in WordPress, you have several free and paid options to check your spelling. Default spell checker for TinyMCE is abandoned and does not work with Gutenberg, you can use the browser's built-in spellcheck, but this blog is going to focus on Grammarly.
Grammarly is an online service that enables you to check your grammar and spelling in real-time in your browser or in MS Office. Grammarly has extensions for Chrome, Safari, Firefox, and Edge browsers, making it a multi-platform tool working on all operating systems that support browser extensions.
Pricing
Grammarly has a free and premium version. The difference is in services offered, the premium version offers additional types of feedback not included in the free version. The free version is free forever, works well with WordPress and it is not annoying or intrusive, it does not try to sell you the premium version all the time.
Functions; spelling and grammar feedback
The free version does basic spell check and proposes correct a/an and the articles in English.
The premium version offers feedback on Spelling, Punctuation, Clarity, Sentence Variety, Conciseness, Vocabulary, etc.
Spelling function corrects misspellings, misused words, and capitalization. Punctuation function corrects missing and misused punctuation. Clarity function identifies confusing sentences and overlong paragraphs. Vocabulary function replaces words with more precise synonyms, nags about often overused phrases, etc. Sentence variety function identifies monotonous sections of text. Conciseness function eliminates wordiness and redundancy.
Examples of feedback:
Vocabulary
The word basic is often overused. Consider using a more specific synonym to improve the sharpness of your writing.
Clarity
This sentence appears to be written in the passive voice. Consider writing in the active voice.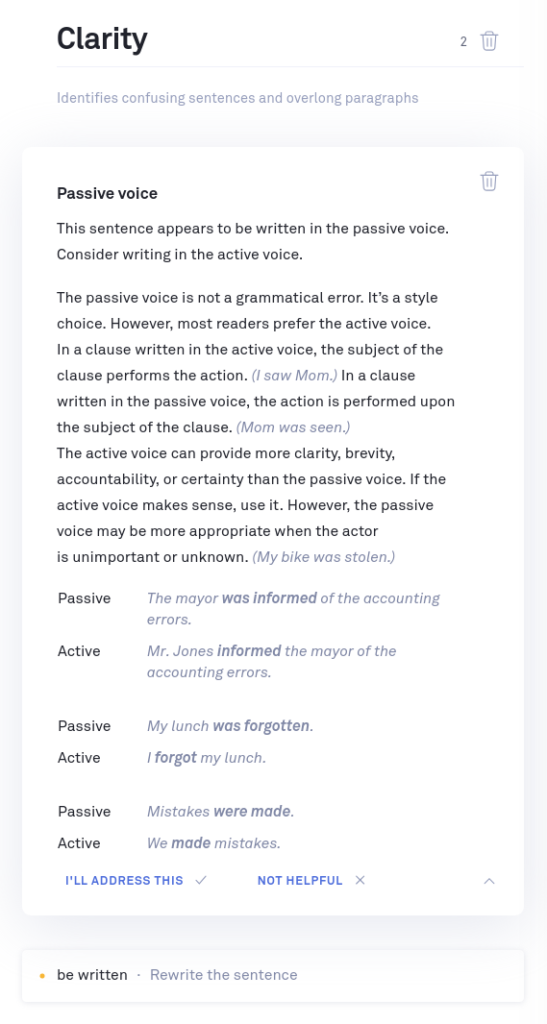 Conciseness
It appears that personal creates a tautology. Consider removing it.
Sentence Variety
3 similar sentences in a row. These sentences seem repetitive because they all follow the same pattern. Consider combining some of them or changing the word order.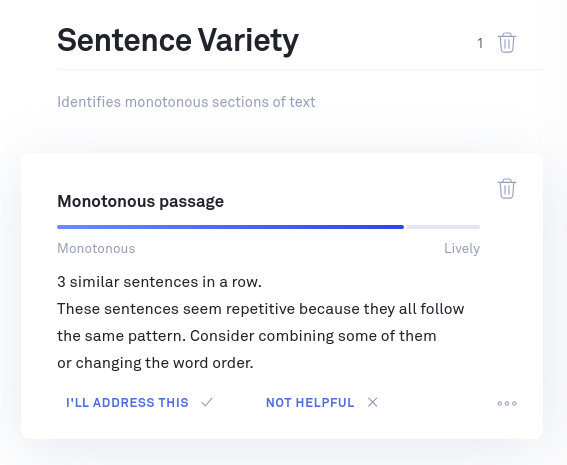 Spelling
Our dictionary does not include the word fsdfds. You can add it to your personal dictionary to prevent future alerts.
WordPress support
Grammarly works great in Divi visual editor, native Gutenberg editor, and the legacy TinyMCE editor. Have a look at screenshots below to see Grammarly in action, these are screenshots of the free version, notice the line ATTN: You're missing many key Grammarly features.
Divi Visual Builder screenshot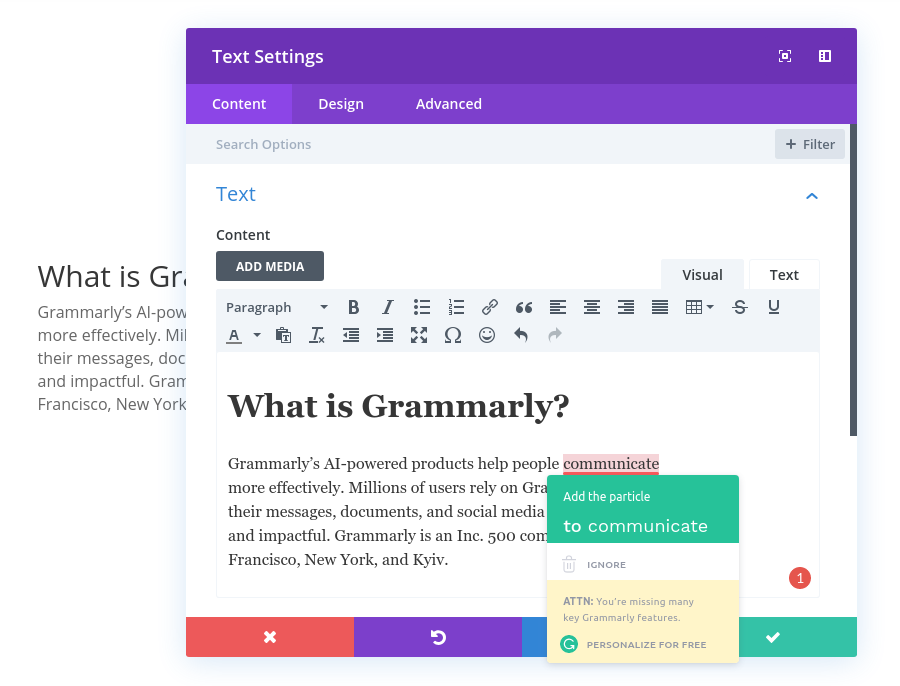 Gutenberg screenshot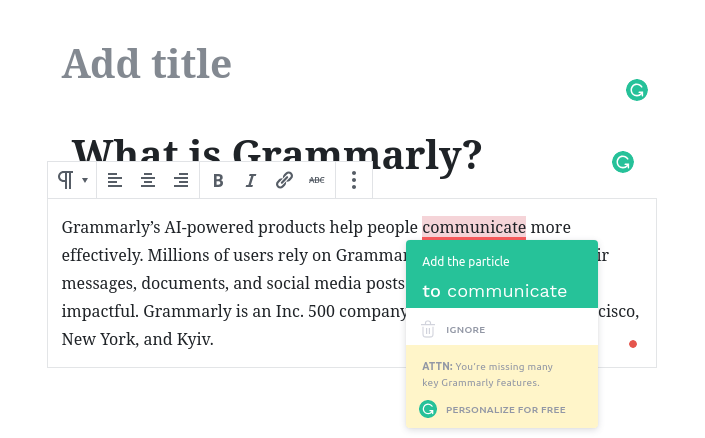 TinyMCE screenshot
Other Grammarly premium functions
Performance evaluation
Grammarly can gather statistics on how well you perform while writing. Counts your characters, words, and sentences. Gives you an estimate on speaking and reading time. Assesses your readability by word length, sentence length, and readability score where it compares your text to The New York Times.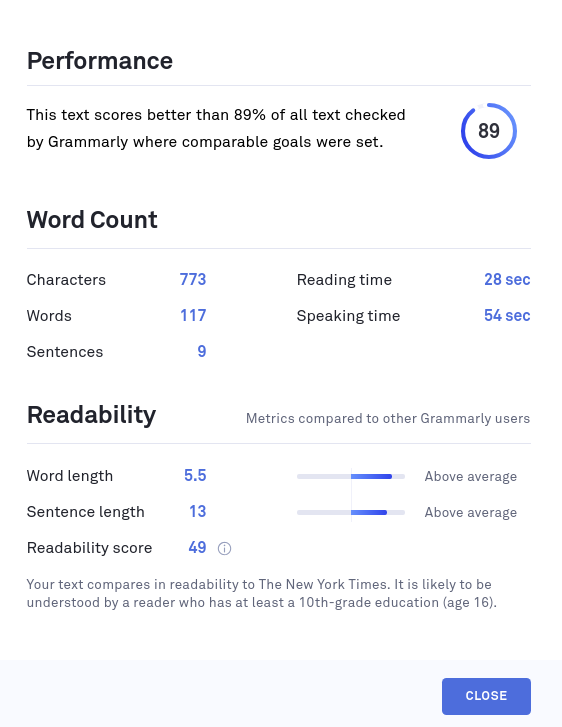 Plagiarism check
Grammarly is capable of checking your texts against millions of online sources and try to make sure your text is original and does not match other texts on the internet.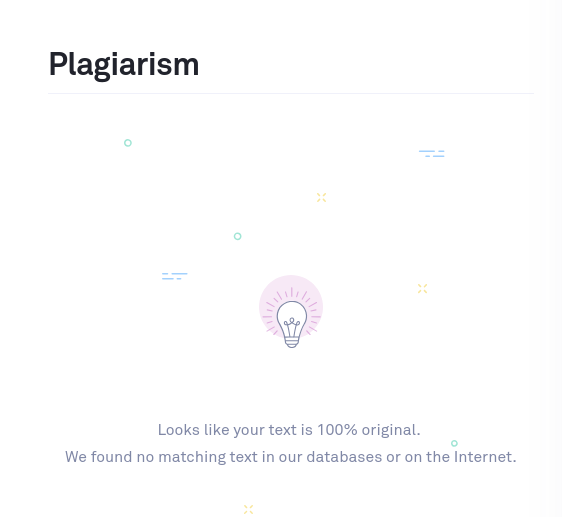 Writing goals
The more Grammarly knows about the context of your writing, the more customized and helpful suggestions it will propose. You can set intent and emotion. Setting the intent and emotion helps train Grammarly artificial intelligence to provide more targeted feedback.
Specify your audience to General, Knowledgeable or Expert, set your style to formal or informal. Set your domain to General, Academic, Business, Technical, Creative, Casual.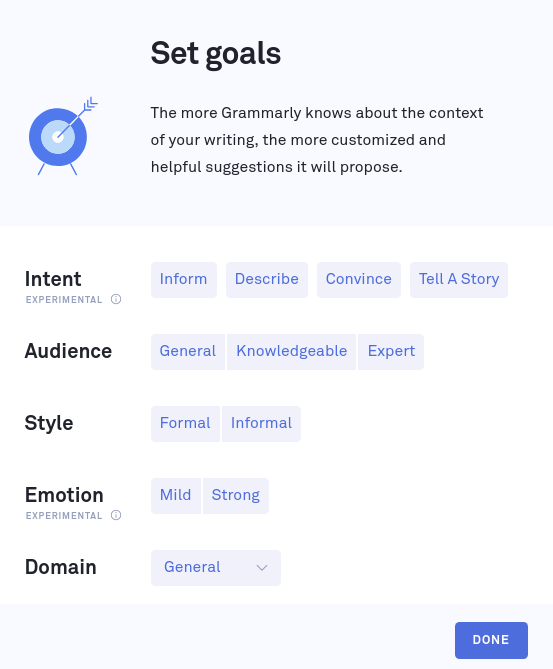 Other settings and preferences
When an alert is applied or rejected, Grammarly is capable to automatically scroll the text to the next alert. You have an option to show the word count in the bottom of the text pane and increase text font size.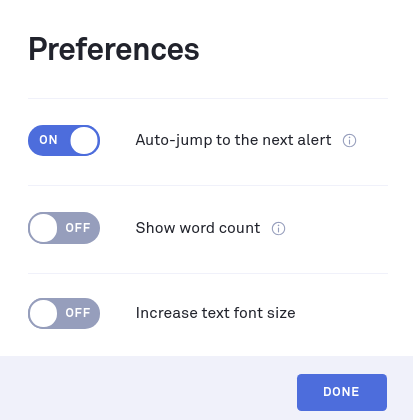 Synonyms
Double-clicking on a word will trigger a tooltip with a list of synonyms.